The Yorktown Chamber Awards Lunch was held on Tuesday, December 13th at Westminster Village in the Legacy Room.
The award recipients were:
Lifetime Achievement Award: Mary Ann and Steve Stroeh
Community Impact Award: Amy Carroll-Spangler, Christiana Mann, Kat Blankenbaker
Outstanding Contribution to Education: Taryn McKnight
Spirit of Small Business: Farmhouse Creative
Excellence in Public Service: Kris Thornburg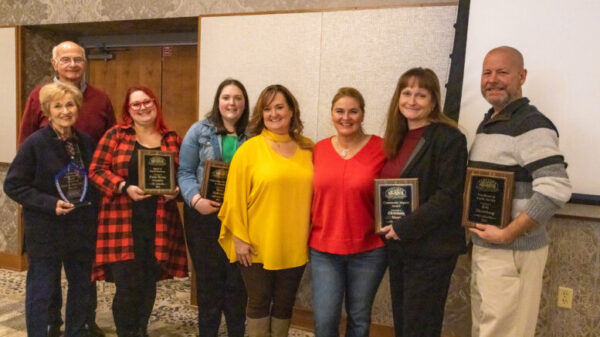 Kris Thornburg of the Town of Yorktown received the 2022 Yorktown Chamber award for Public Service. His nominator, Kat Blankenbaker, worked with Chris during the six-month Civic Green concert season. She said Kris stepped up all summer long during the concert series.
"He was incredibly patient and kind as we worked through the kinks to find the best ways to set up and tear down. The large banner's cable broke due to high winds, and Kris was right there to help find a solution." She added, "It's one thing to do a person's job, it's another to do it joyfully, and Kris always shows up with a smile on his face. Thank you, Kris, for choosing excellence!"
Mrs. Taryn McKnight of Yorktown Middle School receives Yorktown Chamber of Commerce's 2022 Outstanding Contribution to Education award from YMS principal Todd Strong.
After being hired in the spring of 2019 at Yorktown Middle School, Mrs. McKnight has emerged as a leader in the school's English Language Arts (ELA) Department. She demonstrates compassion and true dedication to her students on a daily basis. Mrs. McKnight serves important roles on both our Academic & Behavior Response to Intervention and multi-tiered system of supports teams. She also serves as an 8th grade study tables facilitator. In addition to her classroom duties, Mrs. McKnight serves as a Yorktown Virtual Academy ELA teacher. She has been an integral part of the growth and development of this program.
Mrs. McKnight is passionate about her work. She makes intentional efforts to form relationships with the middle school families and prioritizes students' wellbeing. On a consistent basis she volunteers to help and support colleagues and shows compassion and empathy when help is needed. She is a vital part of Yorktown Middle School staff and plays an important role in the school's overall success!
Farmhouse Creative is celebrating their 10 years in business in 2022. Angie Rogers-Howell started the company with her last paycheck from her previous employer. She hit the ground running connecting with 80 potential clients in her first year face-to-face. In 2014, Carolyn Buffy Grieves of Printing Creations in Yorktown was set to retire and sold Angie her book of business. That opened up many opportunities in Yorktown and surrounding communities. That same year, Angie brought on her husband, Matt Howell, to fulfill the need of digital marketing for clients.
Since then, Farmhouse Creative have grown their print and digital marketing business providing excellent customer service. In 2021, Farmhouse Creative obtained the book of business from another printing company, Williams Printing in Farmland. Farmhouse Creative also opened an office location in Winchester in addition to their main office in Downtown Muncie.
Farmhouse Creative continues to connect with new and existing organizations providing marketing solutions while being active in the East Central Indiana community.
The new 2023 officers for the Yorktown Chamber were also installed:
President: Kat Blankenbaker of Viking Realty
Vice President: Mark Goodpaster of Apex Benefits
Secretary: Erin Ailstock of Westminster Village
Treasurer: Kristi Ingram of Northwest Bank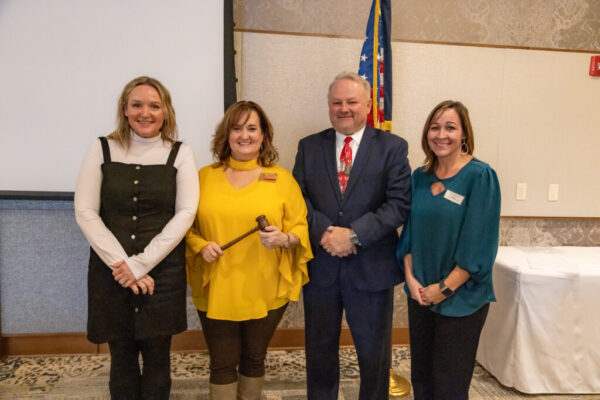 Outgoing officers for Yorktown Chamber of Commerce were also honored at the awards program. These officers served for the COVID years and before. Those recognized were President Keith Gary of US Architects, Vice President Mark Goodpaster of Apex Benefits, Secretary Maureen Walby of Indiana Legal Services, Inc., and Treasurer Ed Armantrout, retired.