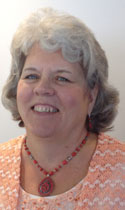 Catherine Swift, owner of Swift & Associates, CPAs, has been in the accounting business for more than 25 years. For eight of those years, she has owned Swift & Associates. She offers tax and accounting services for small businesses, individuals, and non-profits. As part of her growth, she added a location in Daleville.
A member of the accounting and financial committee of Altrusa of Muncie, she is treasurer of Youth Symphony Orchestra and is the accountant for the Yorktown Chamber. The nine-year cancer survivor also is a member of the Calvert Avenue Church of Christ in Muncie. A former member of Women in Business Unlimited, Cathy is also a member of Muncie-Delaware County Chamber of Commerce.
Her hobbies include camping, embroidering, and jigsaw puzzles but mostly spending time with her 22 grandchildren.  She and her husband Richard travel some, mostly to visit the grandchildren out of state.
Cathy has a BS in accounting from Ball State University.
Swift & Associates, CPAs
3620 N Everbrook Ln., Ste. A
Muncie IN 47303
cswift@swiftcpas.net
swiftcpas.net
(765) 288-0713
8 am -4 pm M-F